STRUCTURED CABLING
Structured cabling infrastructure in your office or building is one of the most critical components of your IT infrastructure in your entire operation.
Having this infrastructure carried out with a good planning, design and installation process and proper maintenance according to the procedures, will have a great positive effect on the company's daily operations and will also contribute to long-term success of your company.
Structured Cabling Service
If you are building a new building or rearranging your existing building, "KVB Wiring Service" will deliver the turnkey cabling infrastructure you need.
Our approach to provide turnkey solutions regarding this service is as following:
1. Consultancy
2. Site inspection
3. Design/Engineering
4. Providing materials
5. Installation
6. Certifications
7. Maintenance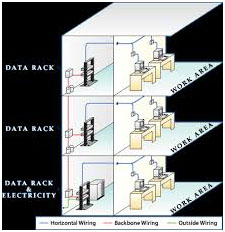 In this context, we provide the highest quality design, skilled technical support and the best equipment services across the country.
Our proposed service;
• Comprehensive solutions for CAT5e, CAT6, CAT6a, CAT7, fiber optic and WiFi,
• The best known brands for CAT5e, CAT6, Cat6a cables, fiber optic cables, patch panels and it's accessories,
• High-Density MTP / MPO-style fiber cables and connections,
• Outdoor underground or aerial cable networks with transmitters and receivers, including the placement of poles and installation of infrastructure,
• Lifetime warranty for certified infrastructure which is designed and installed by us to run your application,
• Consulting and project services all over our country,
• All the necessary documentations and computer-aided designs for structured cabling infrastructure management,
• Customized e-mail and online status reports,